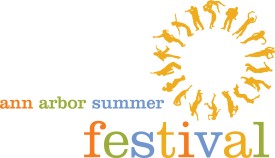 ​This summer, there won't be anything remotely woebegone about Ann Arbor, even though the Ann Arbor Summer Festival commences with Mr. Prairie Home Companion himself, Garrison Keillor, who kicks off the preliminaries on June 1st at Hill Auditorium. Mr. Keillor, by the way, has hinted in advance that he might serve his own recipe of rhubarb pie to all attendees - enough said!
Spanning June 14 to July 7, this 30th year of the Ann Arbor Summer Festival (which will soon have its own downloadable app) will showcase the usual lineup of world class bands on its main stage (Top of the Park), niche jazz bands like Preservation Hall and New Orleans Bingo, fusion Latino-Asian dance music from the likes of Pink Martini, and Malian blues from Amadou and Miriam.
Renowned nationally for its eclectic mishmash of art, music, hippiedom, and cultural innovation, the Ann Arbor Summer Festival makes others seem like child's play.
At this festival, mega stars of art and music venture along the fringe territories staked out by up-and-coming indie rock bands. Everybody sips a little something to combat the heat. The rain doesn't dare drop by. Children are welcome, but occasionally best left at home.
It's not every day that a troupe of men in ballet drag go on pointe (literally) and re-interpret Balanchine's "Swan Lake". Les Ballets Trockadero de Monte Carlo, world famous for precisely this reason, considers such feats all in a day's work. They will bring their testosterone, unreal flexibility, impeccable technique, and perfectly timed camp to Ann Arbor this summer - a first, to be sure, for both the troupe and the audience.
There will be plenty of rival movement to keep the Trockadero ballerinas on their toes: Les 7 Doigts de la Main, a Montreal circus troupe, makes its Ann Arbor Summer Festival debut. Mixing acrobatics, dance, and visual tricks, Les 7 Doigts (7 Fingers) is on the vanguard of modern nouveau-cirque. Performances are kid-friendly and tickets begin at $10.
Rounding out the selection of more typical, family-safe alternatives is "Tangle". Scheduled to inhabit South Ingalls Mall, "Tangle" is an interactive, riotous romp through a maze of elastic, created entirely by kids right there on the spot.
There will also be free outdoor movies (this year a showing of Tom Hanks' "Big"), free live music shows, and tons of community programs. The festival's proximity to Ann Arbor's diverse restaurant scene in the downtown area is another plus.
At the Festival website, search for more info by acts, subjects, or genre, and purchase tickets as well. Sampler packages are available, with steeper discounts for the more shows purchased. Children under three are not permitted.