Ann Arbor, Saline,Dexter, Chelsea, Milan,Washtenaw, Wayne, Livingston Michigan Home Loan
Finance Information
How much home can you afford? Use our finance center to learn about your loan options below. There are several loan programs available, and depending on your credit history, there is bound to be one that is perfect for you. Here are a few examples of the most popular programs offered today:
Coming up with the necessary down payment for a home loan can be a big hurdle for many would-be home buyers. Fortunately, there are options available including loans that require no money down. These loans generally carry a higher interest rate, but even so, these loans can be very affordable when you factor in today's overall rates. One of the more popular versions of this loan is the Rural Development Program and the VA loan program. Ask me about what areas this type of loan is available.
No Income Verification Loans
For self-employed buyers and others who have a difficult time documenting income history, this loan may be for you. Programs exist for up to 90% financing. These loans carry a slightly higher interest rate, but generally speaking, the more information you can document, the lower the interest rate. There are certain liquidity requirements typically associated with this type of program. Even so, it is one of the easiest programs for many buyers today! Note: Due to recent financial market issues, these loans are currently very difficult to obtain.
These loan are in general No Longer Being Offered.
USDA Rural Loans
Up to 100% true financing for homes that are eligible through the rural property criteria. This program is for low-to-very low-income homebuyers. The program allows the homebuyer to use part of the funds towards repairs or renovations for the home. Applicants for this loan must have an income that is at, or below the low-income limit for the area that the desired property is located. The USDA offers this program so low-income families living in rural areas are provided the opportunity of affordable home ownership.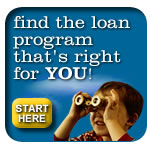 FHA and VA Loans
The Federal Housing Administration (FHA), offers loans for low-to-moderate-income home buyers. FHA loans have low down payments, which typically run around 3.5 percent, and have relatively easy requirements. FHA mortgages have no income restrictions and even those with lower credit scores may be considered (620 min). Past bankruptcy does not necessarily disqualify borrowers from using this program! You can get up to 6 percent of your closing costs paid by the seller.
In addition, the Department of Veterans Affairs (VA) offers a zero-down mortgage program. To take advantage of this program, borrowers need to be among those listed as veterans and service personnel in the U.S. military. One of the biggest benefits of this program is that it eliminates the need for private mortgage insurance!
MSHDA Assistance Loans
Up to $7,500 may be available from MSHDA to help you make your down payment. This program is for low-to-moderate-income homebuyers, depending on the home location and your family size. The program includes a homebuyer education class that will give you valuable information as you take the step towards home ownership.
Adjustable Rate Loans
With a fixed-rate mortgage, the interest rate stays the same for the life of the loan. But with an Adjustable Rate Mortgage (ARM), the interest rate changes periodically, and is typically tied to an index, and payments go up or down accordingly. Generally speaking, lenders charge a lower initial interest rate for the ARM than for the fixed rate mortgage. If you are expecting interest rates to decrease in the future, or if you are trying to maximize your purchase power today knowing your income will rise in the future, then this loan may be right for you. Also used when you only expect to be in the home a short
time.
HomePath Loans
Offered exclusively for Fannie Mae owned properties, HomePath financing is ideal for low-to-moderate-income home buyers.
The program offers up to 95% loan-to-value financing and no appraisals, property inspections, or mortgage insurance is required. You could also qualify for 3.5% in closing cost assistance through their buyer incentive program.
Make Over Mortgage and 203K
Looking to purchase a fixer upper? This loan product provides you with money to purchase and close on the property and then have money left over to complete your desired, previously approved, improvements. Ask Tom for details
Portfolio Loans
Sometimes you have something happen in you life that affects your credit history/status. Perhaps there is a foreclosure and or a bankruptcy that is an issue that the standard loan market or secondary market will not accept. However you have good credit, or a history of good credit and your credit event was brought on by a rare or one time event, like a medical emergency or divorce etc. There are lenders that will take the loan and hang onto the paper. They do not resell it in the secondary market like most mortgages so can make exceptions. This is also helpful when buying property in a condo complex or subdivision that might now be complete and not FHA or Fannie Mae approved. Talk to us about more details and who we can refer you too to resolve your credit challenge.
Commercial Loans
Looking to purchase a retail or residential income property? If there are units that are commercial, industrial, retail then you will need a commercial loan relationship. If you have more than 4 residential residential units in the building, you will also need a commercial loan. This is generally handled by specialized local lenders or insurance companies (for larger projects)
Talk with Tom for more information
and check out names or lender references at
www.LendAnnArbor.com
as well. These are the areas TOP LENDERS and have a min of 15 years in the business and are either branch managers or Vice Presidents.
Find The Ideal Loan for YOU!
Let us help you find the program that's right for you.
Click here
and get started today!