EAGLE SPRINGS SUBDIVISION, MILAN, MICHIGAN
EAGLE SPRINGS SUBDIVISION, MILAN, MICHIGAN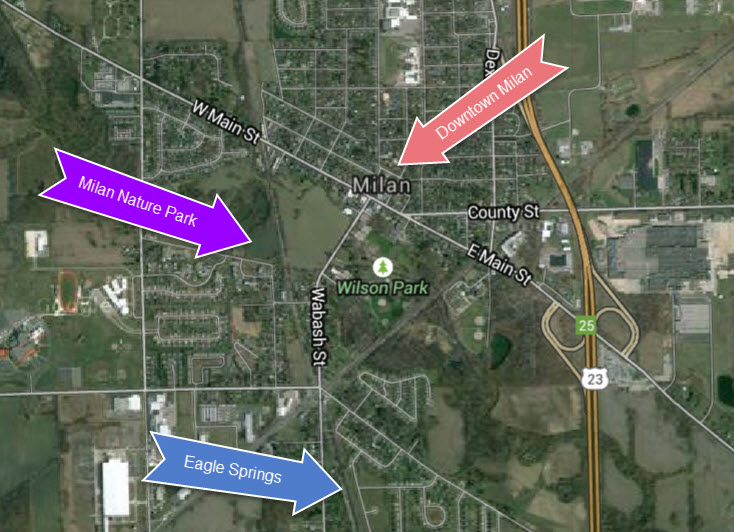 Welcome to the Eagle Springs located just 3 minutes south of Downtown Milan Michigan and only a 15 minute commute to Ann Arbor. All our new construction home listings have many standard features that many other builders only offer as options. Each model below is available in 3 different front elevations each and the standard features can be viewed by clicking on their respective links below. CHECK OUT THE WALK THROUGH VIDEOS AT THE BOTTOM OF THIS PAGE Click here for mapping directions or the map to the right for a larger aerial image of the surrounding community.
Eagles Springs is a four phased 158 lot subdivision including our 49 lots now available in Phase 4 for your new construction model home. Lots range up to 1/2 acre with sidewalks and parks and are serviced by the City of Milan for utilities, care of the public streets and trash removal. Contact Tom Stachler for a list of available lots and or spec homes or note the info links below. We are happy to build a home to your specifications as well. The home construction project would be builder funded and not require you to obtain a construction loan. Our homes offer more in standard features and specifications than often found in other communities. Please note the standard features listed below in the Community Brochure download or bullet list on this page.
Spec homes currently under construction will be available for final sale once they near completion and prospective purchasers are free to reserve on a first come, first serve basis using a the Lot Reservation form below which will act as "first right of refusal" offering within 10 days of complete or builder notification. Buyer Agents are encouraged to use the Agent Registration form near the bottom of this page whenever possible.
Useful Information and Downloads
If you wish to Pick Out and Reserve a Lot then you can do that risk free and the builder will provide you with a final price on the home style with options of your choice prior to your final commitment and deposit. Just complete this Lot Reservation Agreement and give us a call and we can setup a meeting to price out a home for custom designed for you. If you decide to move forward you will generally need a 5-10% down payment and then the balance is due once the home is completed via cash or an end loan from your lender. If you do not like the price and decide not to move forward together, then your small $1000. reservation fee is fully refundable.
We look forward to working with you !
​
Home Models Offered for Sale
STANDARD FEATURES INCLUDE
Brick on Four Sides of the house!

Cable Jacks and and Ethernet/phone jacks each Bedroom

Prep for Flat Panel & WiFi Router Above Fireplace

Hardwood or Ceramic Floors in Foyer, Hall, Powder Room, Kitchen/Nook

Ceramic Floors in Baths Standard

Thicker 2 x 6" Walls for Higher Energy Savings & R-21 rating

Lawn Planted just before Move In

Oak Raised Panel Cabinets with Dove Tailed Construction

Soft Close Cabinet Doors & Drawers Hardware

Granite Kitchen Island or countertop breakfast bar

Concrete Driveway and Sidewalks

MasterBath Ceramic Tile Tub and or Shower Surround

Electric Garage Door opener & Key Access Pad

Limestone Address Marker Stones and Keyway masonry installed

Granite Counters Throughout with Under mount sinks

Gas & Electric Plumbed for BOTH range and dryer

SS Dishwasher Standard

Water Line to Refrigerator Plumbed in Wall

Basement Rim joist Insulation

One Egress Window & two Ventilated Glass Block Windows in Basement

Garbage Disposal Standard

Central Air Conditioning and High Efficiency Furnace & H20 Heater - Standard

15 Recessed Lights at no charge
​OUR STANDARD FEATURES EXCEED THOSE OF ANY OTHER BUILDER
More About Milan Michigan
If you are thinking that Milan, Michigan, is named after that city across the Atlantic Ocean in Italy, you are correct. The Milan here in the states is located partially in Monroe County (about 40 percent of the its total area and 25 percent of its citizens) and partially in Washtenaw County (about 60 percent of the its total area and 75 percent of its citizens).
The City of Milan resides about 50 miles southwest of Detroit, 40 miles northwest of Toledo, Ohio, and 15 miles southeast of Ann Arbor, and is home to nearly 6,000 residents. It is able to boast an impressive population increase of more than 16 percent since the year 2000.
The myriad of homes for sale in Milan include some spectacularly beautiful and devotedly maintained 19th century Victorian, Italianate, Art Modern and International architecture, for which the city's downtown was rewarded with a highly coveted spot on the National Register of Historic Places. Many are quaint, lovely, charming and unique.
According to Sperling's Best Places, the median cost for one of the homes for sale in Milan was an amazingly affordable $83,300 in 2012. Milan's average home appreciation was nearly 3 percent last year. But just in case you need more reasons to love Milan, it contains approximately 200 acres of magnificently maintained parkland and, in comparison to the rest of the United States, offers a cost of living that is more than 14 percent lower than the national average.
Established in 1831, and named commitment by founder John Marvin after his son-in-law, the area of land remained officially classified as a village until 1967, when it gained city hood as Milan.
Some of Milan's Most Popular Attractions Include:
Hack House Museum

Mill Pond with Public Park

Annual 4th of July Carnival with Fireworks show

Talladay Farms Corn Maze and Wasem Fruit Farm
​​
Videos of Some of our Home Styles
Heron Model 1500' Ranch 3BR/2Bath
Stonecrest 1800' Two Story 4BR-2.5Bath
Watch this 2015 Video Below for some more information about the subdivision and the surrounding community shot before we started the project. Its a great place to live for those looking for that small town feeling and friendly neighbors. Click the 4 arrows bottom right corner for a larger HD image.
tom stachler, broker, real estate, homes, houses, new, construction, milan, michigan, for, sale, property, vacant, land, available, ann arbor, saline, purchase, city, of, village, subdivision
CLICK THE MAP BELOW FOR A LIST OF PROPERTIES